Our Staff

Our staff is a critical part of the Arbor Ridge Pet Clinic. It begins with our friendly and helpful customer service representatives, who answer your calls and questions. They will be there to get your pet's pertinent history. They will also be there to help you check out at the end of your appointment.




Our certified veterinary technicians will be there to take a detailed history for your pet's visit. They will get the basic vitals from your pet, just as a nurse would in a human hospital. They will take your pet's pulse, respiration, temperature as well as weigh your pet. They will discuss with you proper care, possible risks to your pet's health and ways to prevent them through vaccinations, heartworm and fecal testing, as well as heartworm, flea, tick and parasite preventatives. Our well trained CVT's work integrally with our doctors to provide optimal care to our patients from wellness exams, surgical procedures, hospitalized patient care and are also there for you for the tough decisions and times as well.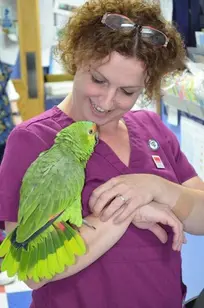 The Doctors of The Arbor Ridge Pet Clinic could not be all that they could be without our great support staff.